Bryan with the MITB Briefcase
Daniel Bryan surprised a lot of people by winning the Smackdown Money in the Bank match. The following Smackdown, Bryan announced to Michael Cole, who has always been critical of him, that he would be cashing it in at Wrestlemania, making him the first person since Rob Van Dam to actually cash it in for a match.
However, since then Bryan seemed to go on a losing streak. He lost to Wade Barrett at Summerslam and wasn't featured on PPV, only wrestling in the dark matches beforehand. It seemed that his decision to cash in his contract at Wrestlemania was coming back to haunt him.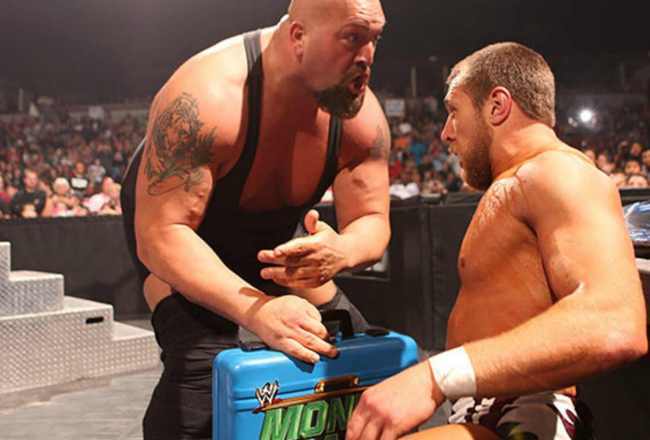 Show persuading Bryan to cash it in his MITB contract on an unconscious Mark Henry
Opportunities in which to cash in the contract came when The Big Show started feuding with Mark Henry over the World Heavyweight Championship. Show tried to get Bryan to cash it in after he had laid Henry out on Smackdown at the beginning of November, only for Henry to take out Bryan with a World's Strongest Slam before he had a chance. After Bryan cashed it in two weeks later and won, it was overturned by General Manager Teddy Long, and it looked like it was increasingly unlikely that Bryan would keep his promise to cash it in at Wrestlemania.
At TLC last Sunday, The Big Show finally defeated Mark Henry in a chairs match to become the World Heavyweight Champion. Henry, understandably, did not take that too well and DDT'ed Show onto a chair. Bryan, after reading Edge's manual: "How to be the Ultimate Opportunist", could not resist and cashed in his contract to become the new World Heavyweight Champion to raucous cheers from the Baltimore crowd.
In your face Cole!!
Michael Cole has said since that Bryan is a hypocrite and, although he's saying that because he doesn't like Bryan, he does have a point. Bryan had promised that he would cash in his contract at Wrestlemania and not do what most MITB winners have done and take advantage of the champion being attacked by someone else. Bryan was, in effect, going to give the champion a chance to fairly defend his title.
However, to be fair to Bryan, if he did cash in his contract at Wrestlemania, he would be facing either The Big Show or Mark Henry. Both of those guys are over 400 lbs and are twice Bryan's weight. Bryan is one of the most technically gifted wrestlers that I have ever seen but it would be no contest in terms of strength and he will be easily overpowered by either one of them. Bryan probably realised that he might struggle to defeat them and knew that, in order to become World Heavyweight Champion, he would have to seize the next available opportunity. If the Big Show is unhappy about what happened to him, he only has himself to blame. He was the one who effectively planted the seed in Bryan's head about cashing in his contract early.
It will be interesting to see where they go from here. They could turn Bryan heel, which judging by the very positive crowd reaction would be insane; or turn Show heel, which might not be advisable since we already have one monster heel on Smackdown. One idea that I saw would be really good and you don't need either of them to turn heel. The Big Show could say that he respects Bryan cashing it in but he wants a rematch to see if Bryan deserves to be the Champion. Bryan beats Show cleanly at the Rumble and Show raises his hand as a show of respect.
In terms of Bryan being a hypocrite or an opportunist, I would say that he is both. Yes, he is a hypocrite because he didn't cash in his contract when he said he would. However, the feud between The Big Show and Mark Henry gave him way too many opportunities to resist. Judging by the crowd reaction at TLC and the following RAW, the fans seem to be happy enough that Bryan is the Champion. For those people who are unhappy for Bryan's hypocritical behaviour, I'm sorry but if you had the MITB contract and you could either cash it in to give the 400+lb Champion a chance in a proper wrestling match or cash it in when that guy has no chance to defend himself, what would you choose?