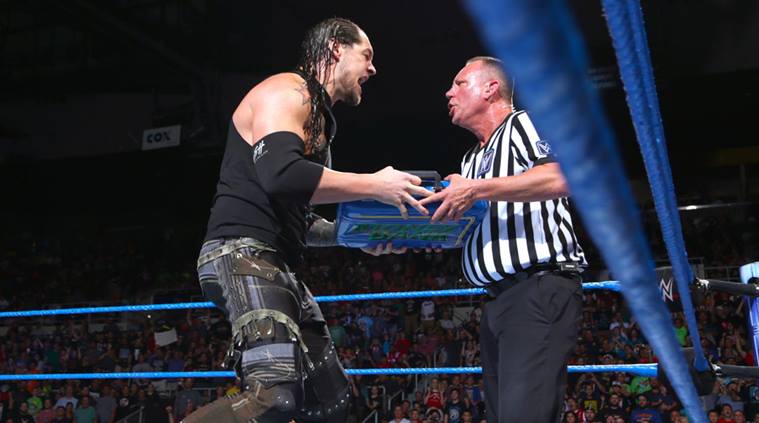 Last night, the main event of Smackdown Live was Jinder Mahal taking on John Cena. It looked like Cena was going to win when Corbin interferes and beats up Cena. He then decides to cash in his briefcase. Unfortunately, he is distracted by Cena and this allows Jinder to roll him up and get the win.
Without a doubt, this is the worst cash in I have ever seen and there are many things to look at. First of all, the timing. To do this in the last few minutes of your go-home show before the second biggest event of the year is a big surprise and if Corbin was successful, it would have made Summerslam very interesting. Would Cena vs Corbin now be a Championship match? What would Shinsuke Nakamura, the Number 1 Contender, have to say about it? Would it be now be a triple threat match or will Corbin face Nakamura instead? If Talking Smack was still going on, you could see all those questions being answered by Shane McMahon and Daniel Bryan.
Secondly, Jinder is probably the luckiest person on the planet because everyone else involved in this are fucking morons. Corbin is practically back at the Gorilla position before he decides to cash in. Then he has to wait for the referee to tell the ring announcer and the time keeper about what is happening and make sure Jinder is ok to compete. This gives Jinder a long time to recover. When the match starts, Corbin gets distracted by Cena, who is just standing on the apron not doing anything. Also, you have to think that Cena is an idiot in this as well. Even though he techncially didn't do anything, but he's laughing at Corbin afterwards. You do realise that you could be facing Corbin for the WWE Championship at Summerslam, right? You know, the chance to be a 17-time World Champion, breaking Ric Flair's record? I know that Cena is supposed to be the ultimate babyface but there are times where he does some really dumb things.
I'm not the biggest fan of Baron Corbin but I feel so sorry for him. He not only loses in less than 10 seconds but by a roll up. Jinder doesn't even hit his finishing move. If that isn't a big "fuck you" by WWE, I don't know what is. I know that some people think that this could make Corbin better but we thought that about Damien Sandow and look what happened to him.