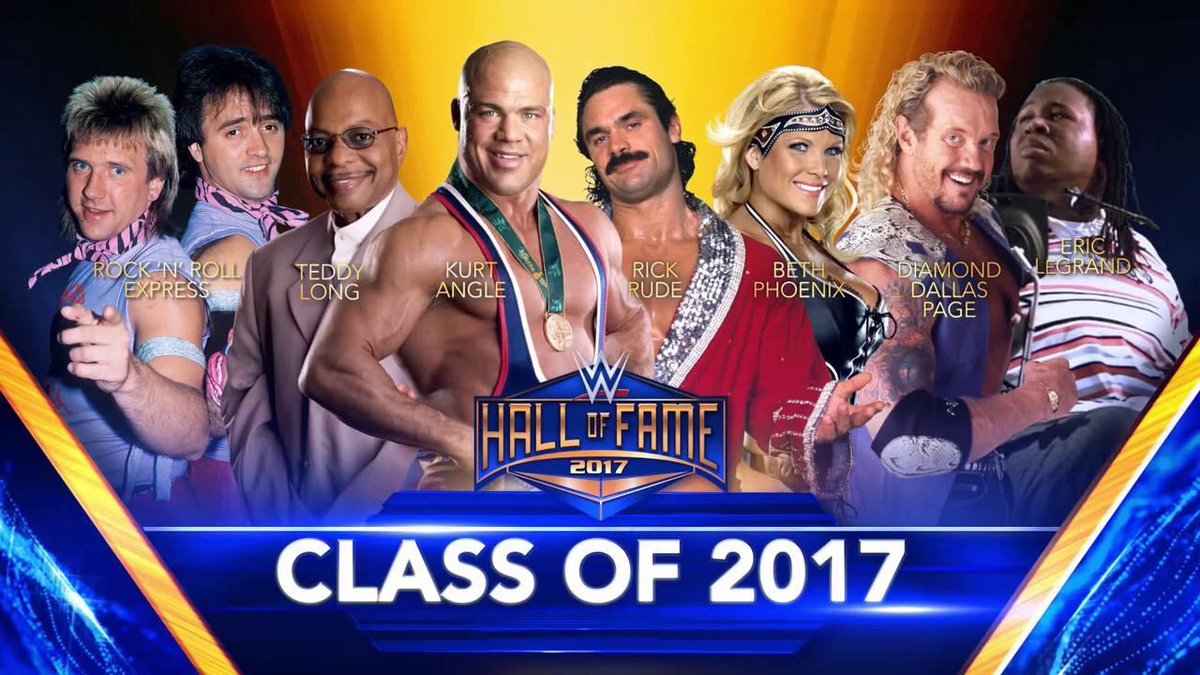 This evening, the Class of 2017 will be inducted into the WWE Hall of Fame. This year, it is a really good class so let's look at the inductees.
"Ravishing" Rick Rude
Rick Rude was a tremendous wrestler who had a gimmick of an arrogant ladies' man. He is best known during the Hulkamania era for his feud with The Ultimate Warrior. For people who watched both WWE and WCW during the Monday Night Wars will also remember from when he appeared on both shows at the same time in 1997. He won the WCW International World Championship 3 times, the Intercontinental Championship once and the WCW United States Championship once. He passed away in 1999 but he is well remembered and he will be inducted by Ricky Steamboat.
The Rock 'n' Roll Express
Ricky Morton and Robert Gibson formed the Rock 'n' Roll Express in the 1980s and they worked in various promotions including the NWA, WCW, TNA and WWE. They won eighteen Tag Team Championships during their time and they will be inducted by Jim Cornette.
Theodroe Long
Teddy Long had been in wrestling for years in WCW and WWE as a manger and a referee. He is most recently known as the long time General Manager of Smackdown and for making tag team matches at every opportunity. He will be inducted by John "Bradshaw" Layfield and Ron Simmons.
Beth Phoenix
One of my favourite female wrestlers in recent memory. Whilst she was a great talent, it was in an era where women's wrestling was fucking horrible. Despite that and being in horrible creative decisons, he was a shining light in that era and she went on to become a one time Divas Champion and a three time WWE Women's Champion. She will be inducted by Natalya.
Eric LeGrand
This year's winner of the Warrior Award got paralysed while playing American Football for Rutgers University against the Army in 2010. He has since gone on to become a motivational speaker.
Diamond Dallas Page
Dallas Page started out as a manager in the AWA and WCW before becoming a wrestler in 1991. He went on to win 10 Championships in WCW, including the World Championship 3 times. Page was one of the few shining lights in the catastrophic Russo/Bischoff era and in WWE, he won 2 more Championships. Page will be inducted Eric Bischoff.
Kurt Angle
Before becoming a professional wrestler, Angle won a gold medal at the 1996 Olympics. After a very brief stint in ECW, he joined WWF and went on to win 11 Championships and the King of the Ring there. After he left WWE, he went to TNA and won 9 more Championships. He will be inducted by John Cena.