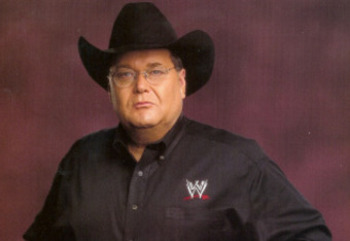 I found out this evening that Jim Ross is retiring from the WWE after an incredible 39 years in professional wrestling. The reason being to spend more time perusing his personal business endeavours.
Jim William Ross made his wrestling debut in 1974 with NWA Mid-South when an announcer was unable to show up one night. He also was a referee there until 1977 and returned when Bill Watts bought out the territory, becoming their lead announcer and vice president of marketing. He worked with Jim Crockett Promotions, which eventually became World Championship Wrestling. Ross was the lead announcer there until he left in 1993 when Eric Bischoff, who he had a contentious relationship with, was promoted to executive producer.
Jim went to the WWF and made his debut commentating on Wrestlemania IX along with Bobby Heenan and Randy Savage. He was in and out of the company until he became part of the lead announce team in 1996, eventually becoming the lead commentator of RAW is War during the Monday Night Wars along with Jerry Lawler.
To me, Jim Ross (or JR as everyone came to know him) was the voice of the Attitude Era. He called so many memorable matches, such as the Hell in a Cell match in 1998, the Austin-Rock matches at 3 Wrestlemanias, and the final WWE match of Ric Flair at Wrestlemania XXIV.
A lot of the adults who watch the WWE or go to the live events will have grown up listening to Jim Ross. The first WWE event that I watched was Wrestlemania VIII, which had Gorilla Monsoon and Bobby Heenan commentating. The job of the commentators is to help tell the story of the match and they generally did it through comedy, with Monsoon being the straight man. JR told the story of the match through emotion. When he got animated saying "My God! My God!" or something similar, he really got you invested in the match and the story being told. JR's final PPV match that he called was the End of an Era match between Undertaker and Shawn Michaels at Wrestlemania XXVIII and the story of the match was made so much more emotive with his voice telling you the story.
It seems like I'm writing an obituary of a man who was passed away. I'm not, but in a way it is. This is a brief obituary of a career that has touched the hearts so many fans of the WWE. Even as I write this, I'm wiping away a tear knowing that I may never hear his voice on a WWE event ever again.
Thank you so much for the memories JR and I, along with many others, will hope you come back one day and call one more match.